I just got a call from a friend telling me that Whitney Houston has passed away and I'm stunned. I know she had her issues. I know the only thing certain in life is death, but I'm still stunned.
My earliest recollection of Ms. Houston is from 1986. I remember going to a talent show where just about every contestant sang, The Greatest Love of All. They sang it as a solo, they sang it as a duet, they sang it as quartet. I mean back to back renditions. I remember getting the same feeling years later when she released I Will Always Love You, which was played on every station 24/7 and probably at every wedding that year. I would not consider myself a huge Whitney Houston fan but I'm the first one to give credit where credit is due, and there's no denying that this woman's voice in her prime touched countless people.
In addition to having a beautiful and majestic voice, I always thought she was such a classic and stylish beauty.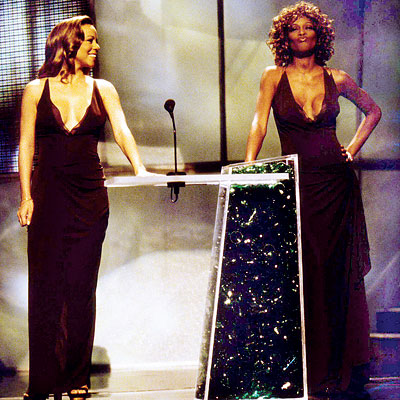 Source
Remember this from the VMAs. I think Mariah then ripped off the
bottom of her dress to make it shorter.
Big hair 80s Whitney, Bobby Brown Era Whitney, 90s Whitney, 2010 comeback Whitney, when she brought her A game it was over.
There will undoubtedly be a lot of talk about the good, the bad and the ugly in her life, as well as speculations about her passing. Yours truly prefers to focus on the positives. She was an exceptionally gifted artist who will be sorely missed. I dare you to listen to her rendition of the Star Spangled Banner below and not be moved.

My sincere, condolences go out to her family and friends. 
Stardate :12102.11